Timelines: Ribbon of Remembrance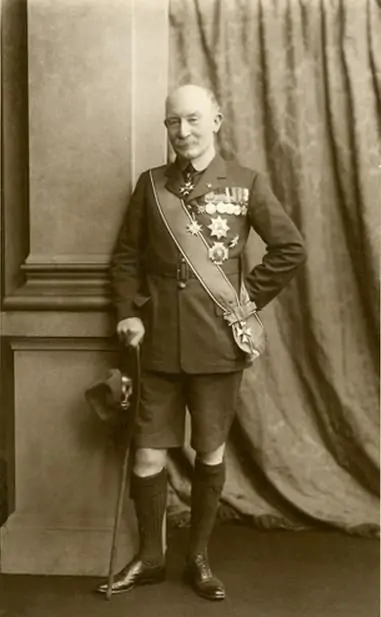 Announcement Date: July 17, 2018
Submitted by Neil Duncan of the 8th Darlington (Cockerton Green) Scout Group.
Lieutenant-General Robert Stephenson Smyth Baden-Powell, 1st Baron Baden-Powell, OM, GCMG, GCVO, KCB, DL was born in 1857 and had a long and illustrious military career, as well as having a profound impact on civilian life for generations of young people.
Baden-Powell spent most of his military service in India and Africa where he honed his Scouting skills and began writing training manuals which would later be the basis for the Scouting Movement from 1908. One of his most famous commands was during the Seige of Mafeking in 1899 when a small garrison held out for 277 days and a 'Cadet Force' was drawn up take over small but important jobs to allow the adults to fight. These Cadets gain an honourable mention in the opening chapter of Scouting For Boys.
He returned to England to take up a post as Inspector-General of Cavalry in 1903. From 1908-10 he was in command of the Northern Territorial Army. During this appointment, Baden-Powell selected the location of Catterick Garrison to replace Richmond Castle which was then the Headquarters of the Northumbrian Division. His plan was brought to fruition following the outbreak of the First World War. The original concept was for a temporary camp to accommodate 2 complete divisions, 40,000 single men in 2,000 huts.
On the outbreak of World War I in 1914, at the age of fifty-seven, Baden-Powell put himself at the disposal of the War Office. Lord Kitchener said: "he could lay his hand on several competent divisional generals but could find no one who could carry on the invaluable work of the Boy Scouts".
Explore more memories from the ribbon
Joseph (third from left) was born around 1884 in Ainderby Steeple near Northallerton in North Yorkshire. He was the eldest of five children to Thomas and Amelia. He would eventually end up living at East Witton where he worked on the Jervaulx estate. He married Agnes Kendray and they would have three children. Joseph was a fine athlete as witnessed on Coronation Day June 22nd 1911. In the fell race to the top of Witton Fell and back Joseph came first. His exploits were published in the parish magazine. Joseph enlisted at Middleham joining the 7th Battalion Yorkshire Regiment. The Battalion embarked for France on the 13th July 1915. It was during operations in February 1917 in an area of the Somme that heavy German artillery would take a heavy toll. A shell destroyed a cellar being used to house stretcher cases killing most of the men. One of those reported missing was Private Joseph Allen. His body was never found. Joseph's name is commemorating on the Thiepval Memorial. A service was held at East Witton Church on the 3rd March. Tragically, one month after the service, Joseph's widow Agnes died, aged 33, leaving three young orphans.

Phyllis was born in Dowlais, Glamorganshire, Wales in 1892, the daughter of Margaret Jane and David Thomas Jenkins. She joined the British Red Cross on the 21st of January 1918. Subsequently, she was stationed as a Voluntary Aid Detachment Nurse in the Other Empire Force, British Red Cross, Catterick Camp. Surviving photographs imply that Phyllis was part of the dental team stationed at Catterick. Phyllis volunteered at Catterick Camp until the 14th February 1919.

Wilfred was born in March 1896 in Marske by the Sea near Redcar on the East coast. When he was young his family moved to Middlesbrough where his father worked in the steelworks. Wilfred was training as a draughtsman when war broke out. Wilfred was just 5' 2'' tall, an inch shorter that the regulation height. But due to the great manpower losses he eventually got his chance in early 1915 when recruitment standards were somewhat relaxed. He enlisted in the 4th Battalion. It was in November of 1916 in the latter stages of the Somme offensive that the work party that Wilfred had volunteered for came under fire. On his way back to his own lines he was caught by a shell explosion. He was taken to a hospital at Abbeville where his left arm was amputated. Back in England Wilfred had to adjust to life without a limb. He was classed as 'incurably unemployable' and found it impossible to get a job. He used his time to study employment law and became a ceaseless campaigner for better conditions of his fellow jobless war wounded. He would continue to do so even when after he eventually gained employment. He was instrumental in establishing one of the first branches of BLESMA (British Limbless Ex-Servicemen's Association) in Teesside. He married Elsie and his daughter Sylvia was born in 1932. However, his fifty cigarettes a day habit for most of his life would take their toll. He died of lung cancer in…