Timelines: Ribbon of Remembrance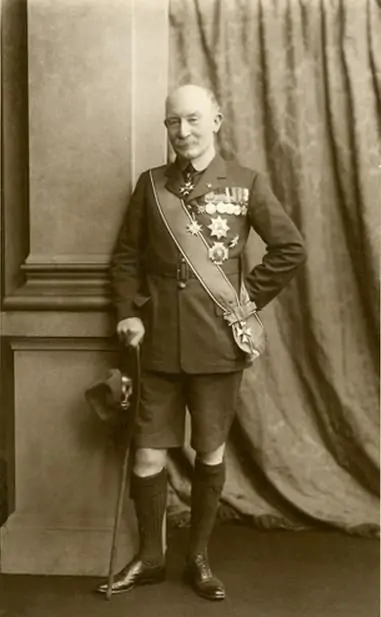 Announcement Date: July 17, 2018
Submitted by Neil Duncan of the 8th Darlington (Cockerton Green) Scout Group.
Lieutenant-General Robert Stephenson Smyth Baden-Powell, 1st Baron Baden-Powell, OM, GCMG, GCVO, KCB, DL was born in 1857 and had a long and illustrious military career, as well as having a profound impact on civilian life for generations of young people.
Baden-Powell spent most of his military service in India and Africa where he honed his Scouting skills and began writing training manuals which would later be the basis for the Scouting Movement from 1908. One of his most famous commands was during the Seige of Mafeking in 1899 when a small garrison held out for 277 days and a 'Cadet Force' was drawn up take over small but important jobs to allow the adults to fight. These Cadets gain an honourable mention in the opening chapter of Scouting For Boys.
He returned to England to take up a post as Inspector-General of Cavalry in 1903. From 1908-10 he was in command of the Northern Territorial Army. During this appointment, Baden-Powell selected the location of Catterick Garrison to replace Richmond Castle which was then the Headquarters of the Northumbrian Division. His plan was brought to fruition following the outbreak of the First World War. The original concept was for a temporary camp to accommodate 2 complete divisions, 40,000 single men in 2,000 huts.
On the outbreak of World War I in 1914, at the age of fifty-seven, Baden-Powell put himself at the disposal of the War Office. Lord Kitchener said: "he could lay his hand on several competent divisional generals but could find no one who could carry on the invaluable work of the Boy Scouts".
Explore more memories from the ribbon
Mrs Drury of Richmond visited the museum to tell us about Jack Morley, her great uncle. Jack Morley was one of nine children of a hill farmer in Weardale, County Durham and a keen athlete. In 1914 he lived in Toronto, Canada whither he had emigrated and worked as a cabinet maker. When war broke out he returned to England, to his mother's great joy, to join up in the Durham Light Infantry. One of his five brothers was Customs and Exciseman for Swaledale and Wensleydale, based in Richmond, near Catterick Camp where Jack did some training. Jack would ride over to Richmond to visit and would tie up his horse in the garden to the great delight of his nieces! Jack served in the 1915-1917 Salonica Campaign in northern Greece, at the time that city was badly burned. Jack organized the transport of supplies, mainly by mules through the hills up to the Struma Front. His height was 6'3" and together with his high-heeled riding boots and his high officer's helmet, he made a commanding figure in securing the co-operation of the locals! In his time off he enjoyed shooting in the nearby Vardar Estuary marshes and brought home fine striped woollen socks run through with silver thread. The stamps from the postcards he sent home are still in a family stamp collection.

Kevin Robinson of Dalton on Tees visited the Green Howards museum to tell us about his great great grandfather, Sergeant Henry Robinson MM. Henry joined the Yorkshire Regiment (the Green Howards) as a very young man and soon left the UK to serve in the Boer War. Henry had several service numbers during his career with the earliest (and therefore a low number) being 421. On returning from the Boer war he then went to serve in the First World War both in France and Belgium, Henry and his division engaged in 2nd & 3rd Battle of Ypres, 1st & 2nd Battle of the Somme and the Battle of Arras to name a few. He is believed to have been a very accomplished horseman. His army career spanned some 4 decades as a Territorial reservist. During this time he picked up a proud chest-full of medals including the Military Medal awarded 10th October 1916. Adding a Bar to his MM in October 1918, other medals believed to be Queens South Africa Medal, 1914 Star, British War Medal, and Victory Medal with Oak Leaf (Mentioned in Despatches). Henry was also a Hero when not serving his country he was serving children with fun, Henry and his wife Elvira lived in a motor home at Derby Street / Cooper Street / Canon Street Common in Middlesbrough. They operated several fun fair rides which included swing boats and a roundabout. They continued to run the fun fair rides for several decades into the…

John Vivian Nancarrow was born on the 6th June 1885 in Middlesbrough. He was eldest son of George and Charlotte Nancarrow of 'Ravenscroft' at Grove Hill in Middlesbrough. John was educated at Leys School and Kings College in Cambridge attaining an MA and a Law degree. He was admitted a Solicitor in 1909 and became Secretary to Middlesbrough Chamber of Commerce. He had joined the 1st Volunteer Battalion of the Durham Light Infantry in 1907 and later was attached to the Northumberland Fusiliers at Newcastle. At some point he moved to Cornwall and was attached to the Duke of Cornwall's Light Infantry. In 1911 he is recorded as being a Solicitor in Camborne Cornwall. Shortly after John was back in Middlesbrough joining the 4th Battalion Yorkshire Regiment as a Lieutenant. He was promoted Captain in late 1913. Prior to his mobilisation to France he had become engaged to Miss Elsie Harkness of Stokesley North Yorkshire. The 4th Battalion arrived in France in April 1915 and were at Ypres by the 23rd. The Battalion were straight away into Ypres offensive being involved in the Battle of St Julien. During the attack at Fortuin on the 24th John was leading his men forward when he was shot and died instantly. Subsequently his body was never recovered. He was 29 years of age. John is commemorated on the Menin Gate at Ypres.